Children are naturally born scientists and love working on easy Science projects in the kitchen. They always love to explore and experiment with something, from blowing bubbles while taking a bath, stacking blocks to form an intricate tower that they just destroy in one swipe, to throwing their plate on the wall. This is why parents often decide to enrol their kids to STEAM (Science, Technology, Engineering, Arts, Maths) classes or other forms of project-based learning to help hone the scientists in them.
But, did you know that there are some exciting easy science projects for kids that they can try? Check out the following easy science projects that your kids will surely love. As a Science teacher I have spent a long time working on Science projects for kids. I have ran STEAM clubs for years and want to share the best ones I know with you!
Rainbow Density Column Kitchen Chemistry
Your child can layer a density column by just using water, food coloring, and sugar. This creates a liquid density column with rainbow color. The project is not only very pretty as it is also safe enough for your kid to drink.
Click here to find out more: Rainbow Density Column Kitchen Chemistry
Vinegar and Baking Soda Volcano Kitchen Experiment
Why not let your kid make his own volcano? The vinegar and baking soda volcano is the classic science fair demonstration where volcanic eruption is simulated with the use of kitchen chemicals. The volcano is filled with a little detergent, vinegar, and water. An eruption will take place once baking soda is added.
Click here to find out more: Vinegar and Baking Soda Volcano Kitchen Experiment
DIY Lava Lamp
Have you ever seen a lava lamp? If yes, then, you will surely know how mesmerizing it can be. And if you were mesmerized, you can just imagine how excited kids will be if they can make their very own lava lamp. For this particular experiment, all that you need is Alka-Seltzer tablets, food coloring, water, and vegetable oil.
How does this work? Oil and water don't mix and the color of oil will not change. However, when water is combined with food coloring, it will change. The effervescent tablets will react with water to form the bubbles that will rise to the upper part of the glass before popping and falling back to the bottom.
Make Your Own Crystals
Crystals are among the most fascinating things in this world. In case you don't know, you are constantly surrounded by crystals, from the simple sugar and table salt to your pencil's graphite. Of course, diamond and precious stones are the more famous forms of crystals. The good news is that you can also grow your own fascinating salt crystals and the only things you need are salt, water, and some time.
First, prepare the salt solution. Fill warm water in a cup then continue adding salt to this until the water can no longer absorb any additional salt. You will know that you already reached this phase once the salt simply drops to the cup's bottom part. Pour some salt saucer on the saucer then leave this sitting in a warm area. Once the water has evaporated, salt crystals are going to form. You can continue pouring you a bit more saltwater into the saucer with the existing crystals. Watch as your crystals grow.
Watch Atoms in Action
You will need:
Some water cooled in the fridge for 2 hours
Some food colouring
A large glass
Firstly, fill the glass half full with some hot water. Next, add a few drops of food colouring and stir. Now, fill the remaining part of the glass with the cold water from the fridge and look at what happens….
You will find that the warm water molecules move faster than the colder water molecules. As they move further away from each other they move upwards- here you're seeing billions of atoms on the move!
A High-Tension Experiment
You will need:
A chunk of polystyrene or a ping-pong ball
A glass of water filled right to the top
Some coins
Firstly, place the polystyrene or the ball on the surface of the water. You will find that it moves to the side of the glass. Next, one by one slip the coins gently into the water until the glass is so full that the water bulges over the sides of the glass, but doesn't quite spill over.
You will find that the ball moves to the centre of the glass! This is because the water molecules are pulled towards each other by Hydrogen bonds and they form a kind of skin. This is known as surface tension. It holds the water molecules together so that they can bulge upwards when the glass is full, without spilling over the sides. The ball will float at the highest point in the bulge, which is of course, the middle.
Amazing Science Clubs
Recently there have been a few amazing clubs that send kids fabulous experiments to do at home through the mail. One that I recommend is Academics in a Box Inc.  Each month your little scientist(s) will receive hands-on, fun projects and engineering design challenges to do at home. These activities keep kids entertained for hours. They get so excited about their arrival through the mail.
Your little scientist will receive materials and a Lab Notebook, which includes information on the month's topic. They will perform experimental investigation activities and record their discoveries. They will investigate, brainstorm, plan, build, test and redesign their own inventions and creations. Kids also receive access to the special "Beyond…in a Box" online learning portal.
Curious to know what's in the Groovy Lab Box? Come take a look!
All of these activities support your kid's learning at school with how they approach STEAM activities, which will help them progress even better in the classroom. Academics In A Box are such an awesome company that they were recently awarded the "Parents' Choice Award" for our "Lunar Launch" box.
Academics in a Box Inc also have a great competition going on at the moment if you're keen- click below to find out more:
Enter to win a ONE YEAR FREE subscription at Groovy Lab in a Box!
If you're not so lucky with the competition, it's also good to know that you get your first box free when you subscribe to 6 months or more- see the picture below. These activities are such a fantastic investment in your kid's education and creativity development so if you're thinking this is what your kid needs to get them off their iPad or near the TV as a Science teacher and a parent, I highly recommend giving them a go :-).
Another STEM activity service I recommend is Green Kid Crafts.
They delight tens of thousands of kids around the world each month with fun, creative and eco-friendly craft and STEM activities (science, technology, engineering, and mathematics), mailed right to their door through their subscription program. Every month's Discovery Box is packed with up to 6 unique and engaging activity kits designed to develop your kid's confidence and creativity while helping to nurture the next generation of creative and inspiring leaders.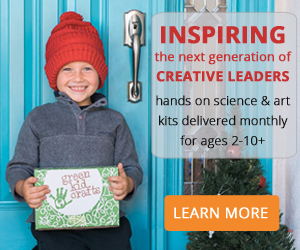 Each month brings a new theme; previous themes have included Mad Scientist, Nocturnal Animals, Around the World, Outer Space, and Feathered Friends. Green Craft Kids ship to the US and US territories, Canada, the UK, Ireland, Japan, New Zealand, and Australia.
Green Kid Crafts have won several awards including Academics' Brain Toy Award, Dr. Toy's Best Green Products, PTPA Seal of Approval, a recommendation from Parents' Choice, MACT Excellence and MACT Green Awards and Red Tricycle's Award for Most Awesome Subscription Service.
Furthermore, Green Kid Crafts is certified carbon neutral, Green America Approved, a member of 1% for the Planet, and has won numerous awards and designations for its responsible business practices. What's not to love, right!? Well that's not just it One Tree Planted For Each Order – AMAZING, right! Green Craft Kids is all about saving our planet too! So you can feel good knowing that you are able to Educate Your Kids and Save the Planet with Green Kid Crafts!
Check out this Video!
Still looking for more? To give you more ideas to try out at home have a look at this video with 25 awesome easy Science experiments. There are some more awesome ideas! My favourites are the magnetic cereal and the green money, but all of them are great. Which is your favourite? I'd love to know in the comment box!
Final Thoughts
These are just some of the easy and fun science projects every kid will surely love. I hope that you enjoyed reading this article and it has given you some great ideas to try with your kids at home.
If you have any comments, please leave them below. I'm keen to hear how you and your family got on with the projects so please share how it went with me, even if it was a disaster! I've had a few of those in my time too, but I look back and they make me giggle now :-).